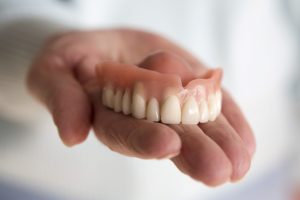 Thanks to new impression technology and other advancements in dentistry, dentures can fit your mouth like a glove. Suction should be enough to hold them in place, but sometimes you might want a little extra stability. A denture adhesive can give you a snugger fit, so can enjoy a juicy steak or give a speech without worrying about your teeth falling out. It can also provide a temporary fix if your denture needs to be relined or adjusted; however, there are a lot of options. Here's what you need to know about different denture adhesives to choose the best one for your smile.
1. Denture Adhesive Creams
If you want an all-day hold that won't irritate your gums, consider a cream denture adhesive. Some brands can seal out up to 74% of food particles using an easy-to-apply method. An ooze-control tip allows you to find the right amount for the exact support you need. You can choose from several kinds of creams, like zinc-free formulas or flavored options.
2. Denture Adhesive Powders
Some denture adhesive powders can hold your teeth in place for up to 12 hours. This is a great option for people who have long days. You can eat, speak, and smile without your denture slipping. The adhesive is applied in short strips to the undersurface of your denture for an all-day hold.
3. Denture Adhesive Strips
If you don't want to deal with messy powders or creams, denture adhesive strips are convenient and easy to apply. The pre-cut strips seal out food particles without the ooze of a cream. You won't have to worry about any unpleasant textures using the easy-to-remove option.
Stop Your Dentures from Slipping
If your dentures aren't fitting as well as before, don't live with the slipping and the irritation. A poor-fitting denture can lead to sores, inflammation, and infections of the gums. Not to mention, it can shorten the lifespan of your denture. Research has also shown ill-fitting dentures can lead to certain health conditions.
You can use an adhesive to stabilize your teeth, but you don't want to use it as a long-term solution to resolve slipping. It's best to have your denture relined regularly to ensure it provides a comfortable, secure fit. With the right maintenance, your denture can last for 5-7 years before needing to be replaced. If you're ready to permanently eliminate adjustments and replacements, you might be a candidate for an implant denture.
If you have any questions about denture adhesives or need adjustments, your dentist will create the personalized plan you need to smile, speak, and eat with confidence.
About Dr. Norman C. Sommers
Dr. Sommers earned his dental degree from the Ohio State University College of Dentistry. He has completed advanced training at Midwest Implant Institute to specialize in dental implants. As a member of various professional organizations, including the American Dental Association, he has the qualifications and reputation you can trust for dentures and dental implants. Contact our office today to schedule your consultation.